In order to showcase the contribution of the Zarathushti community to the country and the world, the Honorable Prime Minister of India, Mr. Narendra Modi, has consistently projected Udvada to be a center for Peace and Harmony. It was his suggestion of hosting a weekend event every two years, wherein Zarathushties from all over the world could come together at Udvada, India, to celebrate what he fondly called as 'Udvada Pravasi Diwas', which has now evolved into the 'Iranshah Udvada Utsav' (IUU).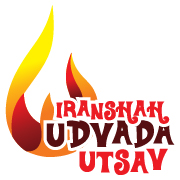 The first Iranshah Udvada Utsav was held on the last weekend of December 2015, where 4000+ Zarathushties from all over the world participated in the cultural festivities.  The second Iranshah Udvada Utsav, a two and a half day event, has been planned to be held from Saturday 23rd December through the afternoon of Monday, 25th December 2017. To bring about efforts of harmony and integration amongst all sections of our community, an array of cultural events and programmes have been planned. The objective of this event is to revive and relive the glory of the past through our rich history and traditions as well as pave way for the future by involving and inspiring our youth.
The organization of an event on such a large scale requires support in terms of organising committee, volunteers and financial resources.  The first IUU has already established that Udvada has the necessary infrastructure to successfully organize large  public gatherings. The Gujarat State administration, through Gujarat Tourism, is the main sponsor of IUU-2017.  The IUU shall begin with a Hama-Anjuman-ni-Maachi and a Khushali-nu-Jashan and will also host religious lectures, panel discussions, heritage walks, and funfair.  The events will comprise of musical programmes, religious plays, fashion show, felicitations concluding with a sit-down Patra dinner for invited guests and registered delegates. Invitations are being sent to dignitaries both Zarathushties, as well as those from sister communities to grace the event. Distinguished Zarathushties from around the world have confirmed their participation.  This year, Mr. Pallonji Shapoorji Mistry and Dr. Farrokh Udwadia will be felicitated in the august presence of dignitaries.
The IUU organizing committee is requesting goodwill for this grand event from Zarathushties around the world by supporting their efforts by way of generous donations.  FEZANA is launching this appeal specifically for this very worthy cause.  (All funds donated to FEZANA for this cause are tax-deductible in the USA.)  To contribute to this worthy cause, please use the form below